Vetting overview
Volunteer roles may require a criminal records or disclosure check to be carried out for applicants or volunteers. Assemble's vetting functionality allows your organisation to manage this, with reports and warning banners notifying you when volunteers require a new disclosure check. It also makes sure that all applicants complete any required vetting check before they can start volunteering.
The process of taking up a disclosure check for applicants or volunteers is not carried out within Assemble but the progress of the check and its outcome is. Your Assemble administrators will have set the correct level of disclosure check for each role profile.
Vetting record
You can view the entire history of vetting added to Assemble that a volunteer has in the Roles & Responsibilities tab on their user record.


Please note – historic vetting records from before your organisation used Assemble may not have been added.
Status
The status of each check is detailed here.
Admin notified – the need for a check has been notified to the relevant team/person
Check in progress – the forms are being completed and the check ordered
Cleared – the vetting check has been completed and is valid until the expiry date (if set) is reached
Not cleared – the vetting check has been completed and has been assessed as not cleared. This is not a valid vetting.
Expiry
This displays the expiry date for each completed vetting. If the expiry date has been reached, this does not necessarily meant that a renewal is required as this is affected by the role(s) held and other organisation settings.
Vetting required
Volunteers
When a volunteer has a role that requires vetting and they do not currently have a sufficient level or valid vetting, this will be flagged to you. A banner will show across the user record and a red dot will be displayed next to their name in MyTeam. If you hover over this indicator, the relevant flag name will show.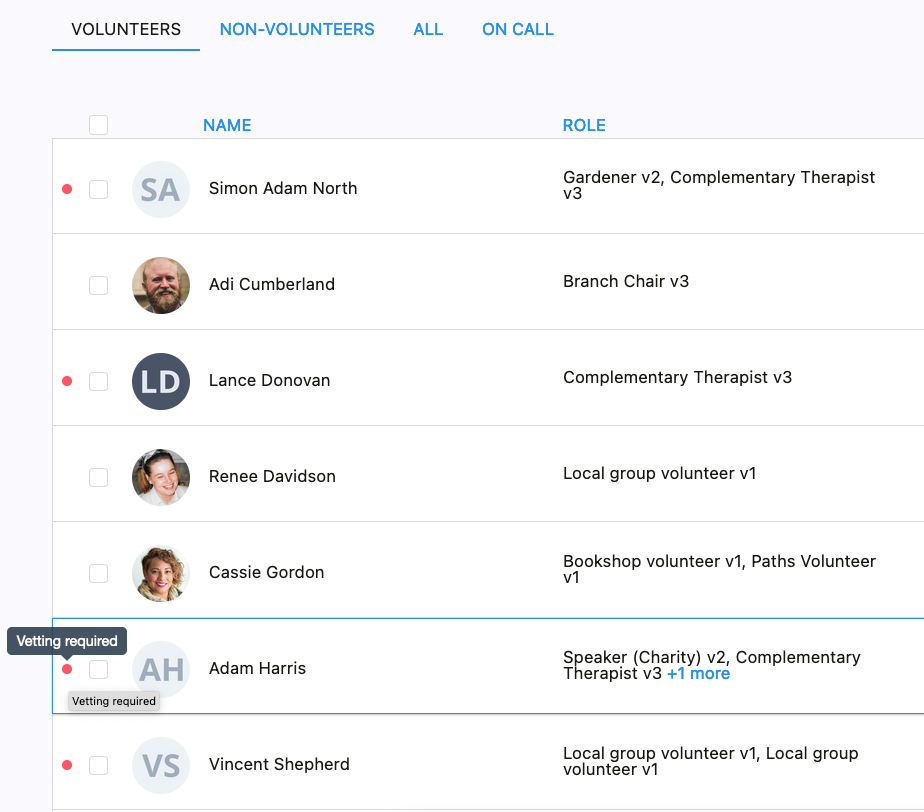 Please use the Vetting By User report to determine the details of vetting required – see Vetting Report.

Applicants
The vetting process is built into the application process. You will not be able to clear an applicant to start until all required checks are complete and confirmed as cleared. These are set by your Assemble administrators. The checks may include:
references
documents eg driving licence, occupational health questionnaire, professional qualification
vetting
On the application screen you will be able to see the same statuses for the vetting check: Admin notified; Check in progress; Cleared.