Partner Organisations
Last Updated:

Partner organisations allow for the creation of opportunities which will link to an external website or email as opposed to using the Assemble recruitment system.
Add new
'Partner name' Name displayed within the opportunity creation wizard on the external advert.
'Default URL or email' Will pre-populate new opportunities, and can be overridden in the opportunity creation wizard if required.
'Partner logo' Displayed in the opportunity card below the short advert text and in addition to the opportunity image which will be set when creating an opportunity.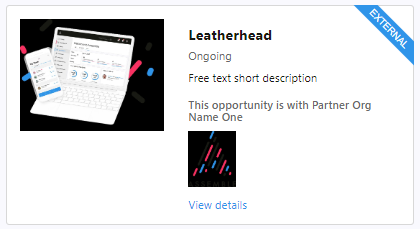 Create opportunity
The ability to create opportunities for partner organisations is permission controlled. The description below only covers differences from the standard opportunity creation wizard. See 'Add new opportunity' for general support on creating an opportunity.
To switch an opportunity to a partner change "This opportunity is…" from your organisation to external. This will make a number of small changes to the wizard detailed below:
Step 1: Opportunity details

The 'Role profile' selector will change to 'Partner organisation', allowing selection of the related organisation from the defined list.
'Opportunity description' will always allow editing. As there is no role to base the text on this needs to be freely editable by the manager creating the opportunity.
'Opportunity advert' will move to step 3 of the wizard.
'Applicants will be a part of:' and 'Opportunity manager:' will be hidden as they are not relevant where the role is not within Assemble.
'Minimum applicant age' will be shown as the opportunity is not based on a role so this needs to be configured here rather than inherited.
'Application URL' will be shown, with default value from the partner organisation setup. This is where an applicant will be sent when pressing the apply button as opposed to going to Assemble.

Step 2: Role details

'How many volunteers do you want?' and 'How many applications do you want?' are hidden as Assemble is not managing the recruitment process, so is unable to know how many applications have been started or accepted.

Step 3: Advert

'Target audience' is hidden, all external opportunities are treated as public.
'Opportunity advert' is shown on step 3 as opposed to step 1
'Advert image' is switched to allow direct upload of an image as the opportunity is not based on a role, so has no gallery of images.

Step 4: Summary