Folders & files
Last Updated:

The document hub is where your organisation can make available any resources to aid volunteers and volunteer managers on their volunteering journey.
To manage the document hub you should have the right permission, please contact your organisation if you need more information in regards to your permissions.
Adding new folders
Select the Hub Home and click the Add folder link at the top of the page and follow the onscreen instructions.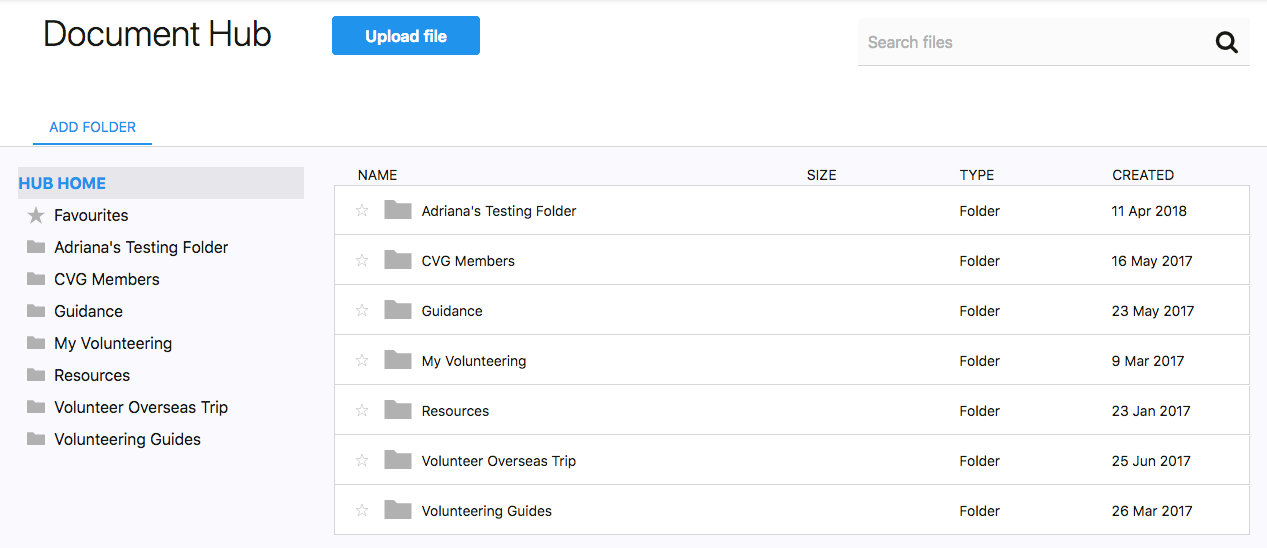 Sub-folders
Select the folder where you want to add the sub-folder and click the Add folder link.

You can add as many folders and sub-folders as you need; empty folders will only be visible by users with edit permission.
Delete
Select the item you want to delete and click the Delete button at the top of the page. The link will only be displayed if the selected item can be deleted.
Folders can only be deleted if empty
Upload
Select the place where you want to place the file and click the Upload file button at the top of the page.
Tip
When opening your computer folder to select the file you want to upload, all supported file format saved on your computer will be available to select, incompatible file formats won't be selectable.
Editing
When the file is successfully uploaded, you will be redirected to the file edit mode screen.
To access the edit screen on saved files select the file and then the Edit button and follow the onscreen instructions.
All file will have a type, size, the date created (added to Assemble), expire date, owner and n. of downloads.

You can only see the number of time a file has been downloaded, can't see who had done it.
Users without editing permission will only see files type, size, and created and expire dates.
You can also, set a reminder against a file, the remainder will appear in the "Reminders" list on the dashboard and clicking the reminder should take you to the document in the hub.

Next to file location, Teams, and Roles you can check if there is an option already selected.
Expiration date - If set the file will be unavailable to view/download when reaches the set date, however, it will still be available for users with permission to manage the hub.
To make the file available again set a new date in the future, you can change files expire date at any time.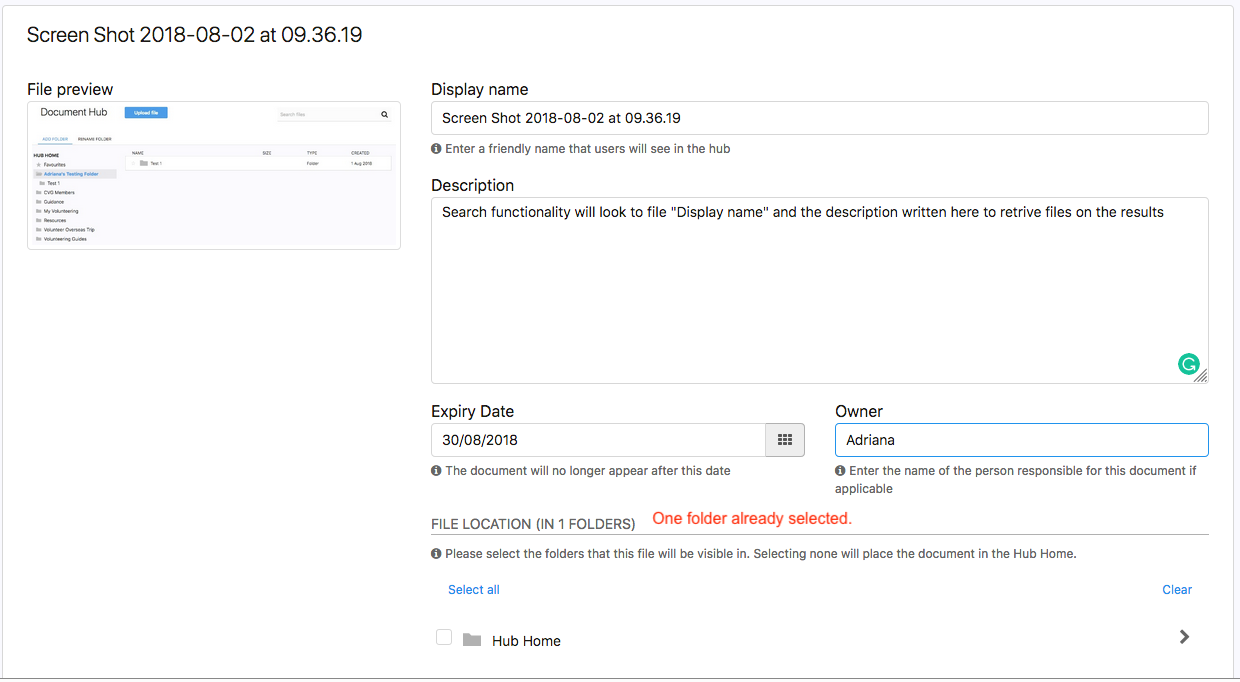 If you don't restrict a file to any team or role, the file will be available to anyone inside the organisation with access to the document hub.
Tip
The Save file button will only be clickable (enabled) if you make any changes, otherwise, it will be disabled
Deleting
Click the delete button and follow the onscreen instructions.
The main search bar and the local hub search will pick up the file title and description to retrieve on the results, file content won't be considered.
---
Required permission(s)
The hub:

Manage folders
Upload file
Delete file