Teams (hierarchies)

Assemble supports an unlimited level and number of teams, sometimes referred to as hierarchy locations. Teams allow you to configure Assemble to reflect the structure of your organisation.
In addition to roles, each user must be placed in a team within your organisation. This will determine who can manage them and, if they are a supervisor, who they can manage. Therefore, it is important to make sure that your teams are configured in a logical manner that best fits your organisation.
It is also important to point out that a manager will always be able to manage the users in the team they are placed in, along with all teams below their team. Therefore, as an example, if your organisation has regions, by placing a regional manager at the region level, they will automatically be able to manage the user in any further teams that are directly connected to and are below their team.
Below is an example team structure a national organisation may have.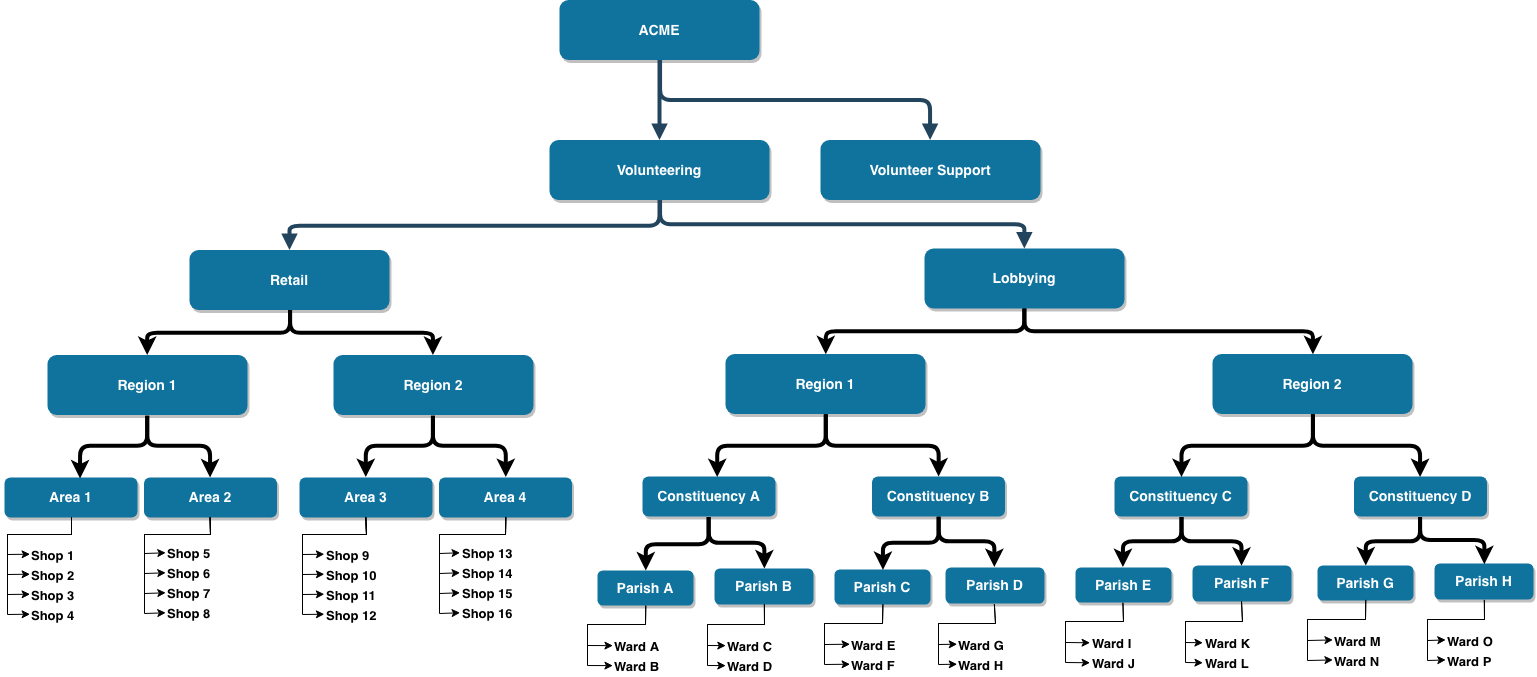 Add teams
By default, Assemble will have two levels of teams already configured with the top team inheriting the name of your organisation. Below that, you will find a team called "Volunteers".
To add a new team below another one, just hover your mouse over the parent team and then you'll see a [+] button appear, allowing you to set up the team details.
Team/hierarchy item name
Enter the name of the team. For example: "South West"
Description
This optional field allows you to enter further description of the team.
Location
If the team you are setting up is a physical location such as a shop/office, you can find its address and assign it to the team. Whenever you publish an event/opportunity to a team, then the location will be pre-loaded. Important: Please add the team first then edit it to add location.
Icon
When adding a team, you can use the built-in icons to help you visualise the team location.
External reference
This is an optional field to allow you to store an external reference ID for the team. This is used for syncing your system with external system.
Edit teams
To edit the team, hover your mouse over the team name and press the edit icon (pencil) to modify its details. You can change all its details.
Delete a team
It is not possible to physically delete a team. You can, however, mark them as hidden where you will not be able to recruit anyone to it. You can only mark a parent team as hidden if all its children are hidden also. To hide a team, hover your mouse over the team and press the red hide icon (closed eye).