User details
Last Updated:

What you can or cannot do on a user record will depend on the permission assigned to your role. These permissions are set by your organisation. Please contact them if you have any enquiries about your permissions.
User banner
The banner at the top of the page offers an overview of the user basic details, e.g. starting date, date of birth, status, user id etc.

Length of volunteering

Assemble calculates this from the Start Date (in the Details tab). This will be the earliest start date for roles on Assemble. An earlier start date can be used during the importing a user's record or added manually to allow for the situation when all historic roles have not been added to Assemble.
Users with one or more role profiles that don't have a start date set will display on the user banner the earliest date on their role profile(s).
If a role profile is updated and the date on the role is before the user's starting date, this will automatically update the user's start date to the same date.

All Assemble users have a start date but only the duration of volunteering itself is displayed in the banner.

Date of birth

Volunteer's full DOB is only be visible if the volunteer is under 18 (e.g. 3 Jul 2004) or if the logged in user has permission1 to see it. For other users, it will only show their birthday (e.g. 25 Aug). This is because it can be nice to celebrate a volunteer's birthday, as we often do with staff. It's often seen as good volunteer management and recognition in teams where volunteers and staff work together day to day.

On call

If On call functionality is being used, this shows the user's On call status and remaining time4.
At the top of user banner, you will find other actions you can perform against a user record if you have the right permission.
If you have the permission group to allow this, you can assume the identity of the user. This allows you to see what they can see. You can also make any changes to a user profile while impersonating them. Any time you impersonate someone is recorded in the user logs in the "Action on user" logs, as are any changes you make while impersonating them.
If you update a consent, the tool tip next to consent updated logs on password & privacy will state who had updated it without you needing to check the logs.
You cannot assume the identity of an inactive user.
To temporarily restrict Assemble access to a user you can use the status on-hold3 functionality on the Contacts tab. Users are automatically set as Active when they have a valid current role and set as Inactive when they don't.
All active users need a current valid role made up of a role profile, team, named manager as well as a start date. If you have an inactive user, simply add a current valid role and they'll become active again.
Adding a recognition to a volunteer lets you choose from the different built-in categories. Simply complete the details and select one of the certificates, if relevant, that your organisation has made available. If you don't want the volunteer to see the recognition in their profile tick Hide from volunteer. You can either have it always hidden (for example, an Honours nomination is usually confidential) or you can change this at any time later to make it visible from then.
From the "More" tab, you can select to edit any recognition on the volunteer's record and you can also download the recognition certificate, if one has been added to it.
You can remove a recognition if you have the relevant permission. This is normally restricted to the volunteering team.5
Tip
You can add a nomination form or externally awarded certificate as an attachment to the recognition but only certificates generated from within Assemble will be available for the volunteer to download.
The activities tab allows the supervisor to do add, edit and delete activities on behalf of the user.
You can export users basic details pdf in a printer-friendly format. Some premises eg charity shops, may not have internet access or need to keep paper files too.
Only the details you have permission to see will be included on the export sheet.
If you have the right permission, you can download a SAR (subject access request). This collects all of the information stored about the user for your data protection officer if they receive a SAR from a volunteer.
An email will be sent to the logged user who requested the SAR; the email contains a download link and a password to open the file.
An email will be sent to the logged user who requested the SAR; the email contains a download link and a password to open the file.
Let's go through each section of the User details page:
Touchpoints
Touchpoints record communication between the organisation and the volunteer.
NB Volunteers cannot see a touchpoint on their record and would only see touchpoints on another volunteer's record if they'd been given manager permissions.
Use touchpoints to log calls, individual or group meetings, emails sent via another system and even SMSs to your volunteer's record. You can also save a message, sent from Assemble, as a touchpoint.
There are also some actions done against the users that add a touchpoint in the background, e.g. when a user is put on hold, or a leaving process is initiated.
Touchpoints added to the application during the recruitment process will show on the "User details" page of the volunteer's record once they start. However, a touchpoint added to the user record will not show on the application screen.
Click the Add Touchpoint link at the top of the user record and select from the drop-down options the relevant touchpoint you want to add and follow the onscreen instructions.
You can edit a touchpoint that you've added for up to four hours after you created it. If you want to make changes after that you can log a comment instead. You can also add a comment to a touchpoint added by someone else. Touchpoints cannot be deleted but you can archive them to hide them in the timeline.
There are additional options available when adding a touchpoint:
Set reminder - On the set date, you will get a notification and the title of the touchpoint will be visible in your dashboard's reminders
Mark as private - touchpoints are completely hidden rather than being simply locked to another manager. However, the permission settings for your organisation, your position in the team hierarchy as well as that of the other manager all affect this. Those above you in the team hierarchy will see touchpoints marked as private.
Mark to team history - Particularly relevant if you have had a meeting. Selecting this option shows the Touchpoint team's history. You should only mark a touchpoint to the team history if it's relevant for the team as a whole. The touchpoint will not be added to the individual records of the team members - only to the team history itself
Upload a file – Useful to store the agenda or minutes of a meeting, or a letter sent to volunteer.
Archive a touchpoint - Touchpoints are removed from the overview on a volunteer's record, but they can still be shown in search results if you click to include it.
You can access the Teams history page from wherever you see the team's name as a blue hyperlink eg in the Roles & Responsibilities tab of the user's record. You can also search by team name in the universal search.
Notes
You may need to use notes to provide background or important information about a volunteer rather than recording communication with them. Notes can normally only be edited or deleted for up to four hours after created - although this will depend on your organisation's settings; there is also a comments option.
Pinned notes will always show at the top and will add a blue dot on the Notes tab to draw attention to an important note being there. Only one note can be pinned at any one time.
Marking a note as private or to a team works the same way as touchpoints.
The print option is not available for private notes.
Notes and touchpoints are part of a volunteer's management record so that the volunteers won't see them. However, other managers or team leader may have access to them depending on their permissions.
Details
Personal details
Fields on the user personal details tab can be edited by managers - although you will not be able to edit the date of birth if you only have permissions to view the birthday for a volunteer.
Custom fields for your organisation are at the bottom of the Details screen. The fields shown will depend on the role of the volunteer and the permissions you have to see or edit them.
Volunteers can see the Details tab in their user profile. However they cannot make changes to their first name, surname, date of birth or start date. These are key identifiers so only managers can change them for security reasons.

Skill and interests
If your organisaiton is using the skills and interests funcitonality volunteers can notify you and other volunteers of their skills and interests. Languages are built in but the categories and skills/interests are set by your organisation.

Contacts
Status - Users can be put on hold3 (with or without contact) for up to six months at a time. This allows for volunteers taking a break or being unavailable due to health reasons. When on-hold without contact, notifications will not be sent to the user and you will not be able to send them a message. If they choose to log in and send you a message, you will be able to reply but they will not receive a notification.
You can also set a volunteer to be on hold and temporarily restrict their access to Assemble, setting them to the Access Suspended status. Please be aware that if the user tries to login into the system they will see a message stating that their account is inactive; they won't know that it has been only temporarily restricted.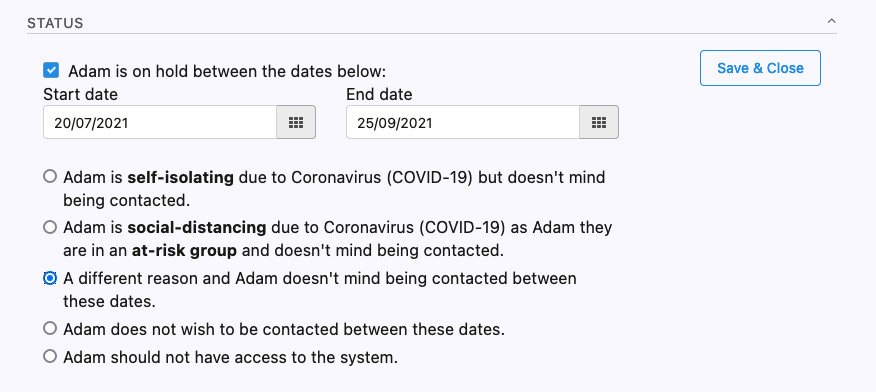 Once the set end date is reached the user will be set back to the previous status they were at before being put on hold. Unticking on hold will return the user immediately to active status.

Roles and responsibilities
Roles
The role assigned to users will determine what functionality they will have access to and what information must be stored against their profile. This section shows the role title, team, named manager and start date for each current role that the volunteer has. Any closed roles will have an end date entered and be greyed out.
If you hover over the user title you can see the internal role name and the permission group applied to that role. To download the role PDF click the role name.

Clicking the team will take you to the team history page where you can see the team timeline.
Clicking View users on the team history page will take you to the My team page with the team filtered by all users in the team.
If you have the permission to edit a role you will see the View option. Click to edit the details for that role and follow the on screen instructions.
Add new role
Please be aware of role permissions when adding a new role to a user, especially if the role has a higher permission than the one the user already has.
Please click here for details on ending volunteer and non-volunteer roles.

Vetting

Please note – historic vetting records from before your organisation used Assemble may not have been added.
Status
Admin notified – the need for a check has been notified to the relevant team/person
Check in progress – the forms are being completed and the check ordered
Cleared – the vetting check has been completed and is valid until the expiry date (if set) is reached
Not cleared – the vetting check has been completed and has been assessed as not cleared. This is not a valid vetting.
Expiry
This displays the expiry date for each completed vetting. If the expiry date has been reached, this does not necessarily meant that a renewal is required as this is affected by the role(s) held and other organisation settings.
Applications
The application tab lists all applications made by the user at any stage. If you hover over an application, it will reveal a view link; this will take you to the application if the data is still available. the rules for data retention are set by your organisation.
Compliance
If risk activities have been added to a role that the volunteer has, you will see that as an option next to the Leave role button. Click to view the details onscreen and to access the pdf download option.
Users responsibilities
You can check if a user has management responsibilities in the managed users and managed activities tabs.
You won't be able to remove a user responsibility (e.g. event) if the user is the only manager of the event. However, you can transfer the responsibility to another user.
Managed users
Select the users you want to transfer to another manager and click the transfer link; this will open a new window where you can search for the new manager. The user selector will display a drop-down with a list of members of your team by default, but you can also, search for other users on the system.
Password and privacy
Two-factor authentication
Two-factor authentication is required by Assemble for some high-level permissions. Your organisation may also require it for other permission groups. If it's not a requirement, this is optional for users.
"Disable two-factor authentication until the next time they log in". This functionality is a one-off solution, to temporarily disable two-factor authentication for users who have this functionality enforced by their role permission.
Reset password
Access details are not openly displayed for security reasons. Clicking the link reveals (and hides) the username as well as logging these actions for audit purposes.
There is a time-out to hide it if the page stays open.
When a password is generated for a user, they will receive a confirmation email and will be required to change the generated password on login.
Whenever a password is changed, the user will receive an email informing them about it.
More
Activities option allows you to view, add and edit the user activities. From here you can do anything the user can do in the activities listing page, allowing you to update their activities for them eg after a phonecall catch-up.
User logs
User logs show a list of actions done by the user, e.g. user logins attempt, import and exports, attempts to access restricted areas etc.
Address logs
User address changes -- here is where you should look if you want to find out a user's previous registered address.
Action on users
These are actions other users have done to them, e.g. included their details in a user export, added or updated a touchpoint, assumed their identity etc.
---
Required permission(s)
Supervisory permission:

View user details - date of birth1
Manage users - recognition2
Manage users - on-hold status3
See on call status of other users4
Manage users - remove recognition5